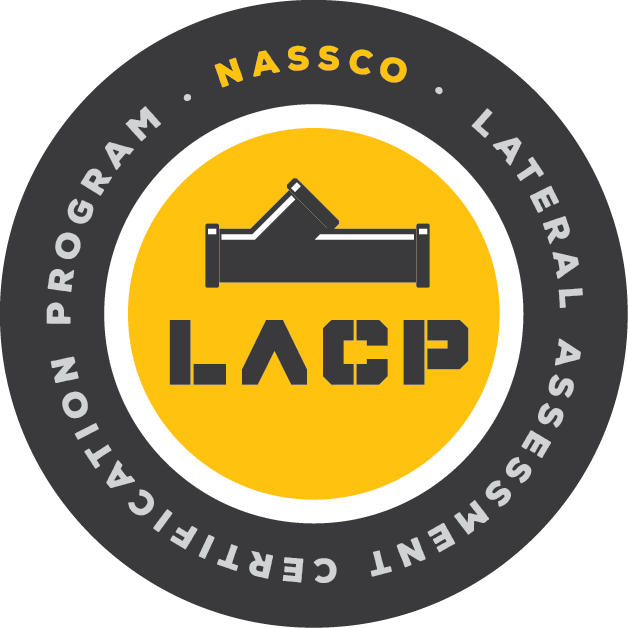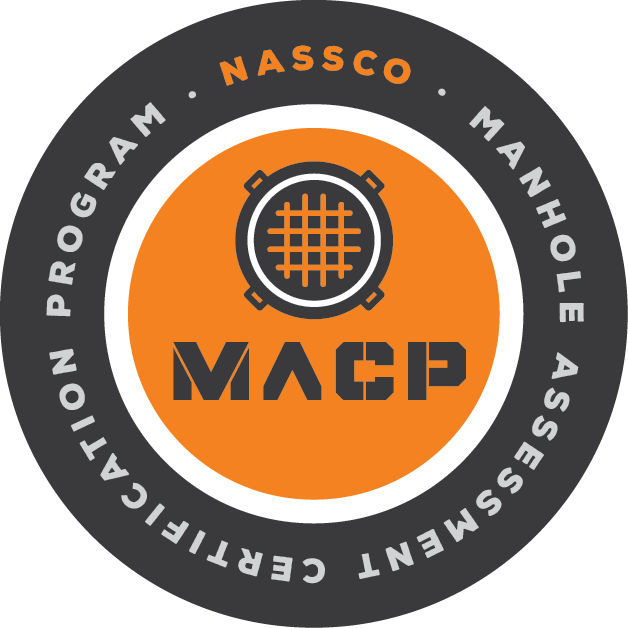 PACP | LACP | MACP
NASSCO's Pipeline Assessment Certification Program (PACP™), Lateral Assessment Certification Program (LACP™) and Manhole Assessment Certification Program (MACP™) are the trusted sources for proper and consistent assessment condition coding of pipelines, laterals and manholes.
The goal of these programs is to help pipeline system owners create comprehensive databases to properly identify, plan, prioritize, manage and renovate their assets based on condition evaluation.
Use the Classes and/or Trainers tool above to search and register for a class/session or find a trainer.
NASSCO offers a limited number of discounts to NASSCO members for any public, trainer-led sessions in the course catalog. As long as you are an employee of an active member company you may qualify for a discount.  Contact your primary representative for more information or email support@nassco.org for assistance.
PACP | LACP | MACP
Initial Certification (PACP | LACP | MACP): $1,075.00*
PACP Only
Initial Certification (PACP Only):  $925.00*
*Course fees include a manual, which will be shipped upon payment and completed enrollment.
Replacement Manuals
Available to certified individuals only:
$125.00 (includes shipping)

$50.00 E-Book (if already have a hardcopy of the current version)
Click here to view the Cancellation, Refund and Transfer Policies.
HOW LONG IS CERTIFICATION VALID?
Certification is valid for 3 years from the date of issuance.  All certifications, PACP | LACP | MACP, follow the expiration date of PACP regardless of when they were obtained.  In order to maintain certification, all certified individuals are required to recertify prior to their expiration date.
CAN I ADD LACP AND MACP TO MY CERTIFICATION AT A LATER DATE?
We highly encourage you to become certified in PACP | LACP | MACP from the start.  If you decide not to do that, you may add it by taking a recertification course that includes LACP | MACP at any time or wait until you are due for recertification.
WHAT IS THE DIFFERENCE BETWEEN TRADITIONAL CLASSROOM AND VIRTUAL CLASSROOM TRAINING?
Traditional Classroom Training is trainer-led, in-person instruction.
Virtual Classroom Training is live trainer-led, online instruction.
Both use the same syllabus which ensures all students get the required information to become certified.
CAN I GET CONTINUING EDUCATION UNITS?
Yes. NASSCO offers CEUs through the University of Texas, Arlington.  We also offer CEUs through an ever-growing list of states including:  Alaska, Ohio, Pennsylvania, Nevada, Rhode Island, Tennessee and more!
Credits through the University of Texas, Arlington can be requested upon enrollment for a session.  If you require credit after the fact or would like to request state credits (extra fees apply), you may request them up to 12 months after course completion by filling out the CEU Request Form.
Credits provided through the University of Texas Arlington
PACP (1.7 CEU/17 PDH)

MACP (0.45 CEU/4.5 PDH)

LACP (0.35 CEU/3.5 PDH) 
Credits provided through individual states?    Email support@nassco.org to inquire.
WHAT IS REQUIRED TO ATTEND A VIRTUAL SESSION?
If you are enrolling in a VIRTUAL session, you must be able to answer "YES" to all of the following questions. By completing your enrollment you are hereby confirming and agree that you are eligible to register and attend a virtual session.
Do you have your own email address (either personal or professional) and have access to it on the day of class?
Do you have a valid picture ID (driver's license or passport)?
Do you have access to a computer that you do not need to share with others? If not, NASSCO's Training Director may approve a small group, please email support@nassco.org to request special permission.
Does your computer screen have a video (camera) and audio capability?
Is your internet service strong enough to eliminate connectivity issues?
Do you have access to a quiet room for attending the course with no disruption from noise, pets, family, co-workers, etc.?
Are you familiar with ZOOM? If not, visit https://support.zoom.us/hc/en-us/articles/206618765-Zoom-Video-Tutorials to view a short instructional video. Please be advised that working in any virtual classroom environment has the potential to create internet service disruption, equipment failure, and other technical issues that may prevent the completion of the virtual classroom training course. If you (or your trainer) should experience any of these issues with equipment, software or internet connectivity during the NASSCO training session, it is beyond the control of the student, trainer and NASSCO. In such cases, future training dates and times will be provided.
Meet our Featured Trainer!
Rod Thornhill, P.E.

We value our highly professional and qualified trainers! We'd like you to meet them. The 2023 Trainer of the Year is Rod Thornhill with White Rock Consultants.

Congratulations to Rod Thornhill, NASSCO's 2023 Trainer of the Year! Rod was integral in the development of PACP and continues to support program improvements and higher standards for both trainers and students. Please join us in thanking Rod for his many contributions to NASSCO and PACP.

Below are just a few things students are saying about Rod:

"Rod was helpful and has a lot of experience to draw from to answer questions that we had about the course"

"Rod is the best.  He knows his stuff!"

"Rod has a very good understanding of the subject matter and seems like a good person to model a pipeline assessment career  after."

To learn more about Rod, click here.

Thank you again, Rod, for your continued excellence in training!
Manual Suggestion
We strive to make our ITCP® and PACP® training manuals the best they can be. Do you have a suggestion or recommendation for improvement? Please complete the form below to notify a NASSCO Team Member.